Brewhouse Theatre funding: Pay cut rescue plan 'scuppered'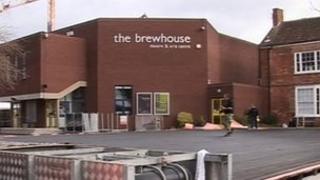 A proposal to cut councillors' allowances and use the money to support the failed Brewhouse Theatre in Taunton has been rejected.
Conservative councillor Ian Morrell put forward the proposal to give up half of the annual allowance, which he said would raise £120,428 for the venue.
The theatre announced last month it was to close, blaming cuts in arts funding for the decision.
Taunton Deane Borough councillors have decided not to vote on the proposal.
Mr Morrell's proposal would have seen councillors giving up about £2,140 of their total annual allowance of £4,301 for the 2013/14 financial year.
The motion was seconded by Tony Beavan, a previous chairman of the Brewhouse Board who has acted and directed at the theatre.
"Any money accrued would not have been given to the Brewhouse until the situation with the administrators has been sorted out," he said.
Business plan
"It was a good idea cut off it its prime," said Mr Beavan.
But fellow Conservative councillor Bryan Dennington, who proposed the motion to scupper the plan, disagreed.
Mr Dennington said he was aware of several councillors who needed the allowance but who would be "embarrassed" to have to say so.
"Speaking as an individual - it's my belief it's not a matter to discuss (at council) how to dispose of people's incomes," he said.
The Arts Council England withdrew regular funding to the Brewhouse in 2005 and Somerset County Council cut all its arts funding in 2010.
The council has provided the theatre with an annual grant of £152,000 which has been suspended pending the submission of a viable business plan.