Somerset funeral held for Scottish avalanche RAF victim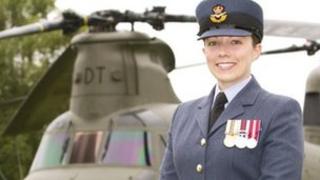 An RAF servicewoman who was killed in an avalanche in Scotland has been given a full military funeral.
Flight Lieutenant Fran Capps, 32, from Dulverton in Somerset, was one of three who died after last month's snow slide in the Scottish Highlands.
RAF colleagues previously paid tribute to Flt Lt Capps, describing her as "exceptionally dedicated" and well known for her "joie de vivre".
The memorial service took place in Dunster's Priory Church in Somerset.
The three who died were part of two separate groups climbing up opposite sides of a gorge in the Chalamain Gap area in the Cairngorms.
Two off-duty RAF personnel were killed, including Flt Lt Capps and Sqn Ldr Rimon Than, 33, of RAF Valley in North Wales.
The third victim was William Currie, 18, from Penzance, who was on a winter skills training course at the Glenmore Lodge centre.
Nine other people who were on the mountain at the time were unhurt.
Flt Lt Capps joined the RAF in 2001 and worked on a variety of stations, most recently with the Chinook Force at RAF Odiham in Hampshire.
She had previously served on operational tours in Iraq, the Falkland Islands, Afghanistan and Qatar and was a member of the RAF Mountaineering Association.
A family tribute page, set up on the Just Giving website, has so far raised over £3,000 for the work of the Help for Heroes charity.