Hinkley Point C: Building challenges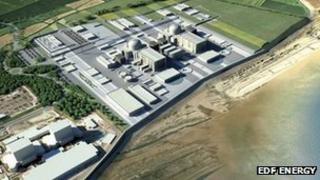 Planning consent has been granted for a new nuclear power station at Hinkley Point in Somerset.
Although questions remain over the electricity price needed to fund its construction, the challenge to build the power station could soon get under way.
So what are the next steps and why will it take up to 10 years?
Hinkley Point C will contain two nuclear reactors and will be based alongside Hinkley A and B.
There are two main aspects to the project - building the nuclear power station itself and getting the infrastructure in place.
Permission for the site preparation works was granted in July and involves clearing a valley to the west of the existing nuclear power station.
This work has not yet been completed.
EDF Energy has said it will not comment on a specific timescale for the project but these are some of the challenges that lie ahead:
Local infrastructure
Some agreements are in place already and include getting the Cannington bypass built in the first two years as the high volume of construction traffic starts to flow.
But there are a number of other measures which include:
Park and ride sites at Cannington and Williton
Parking for 1,300 vehicles at junctions 23 and 24 of the M5
Building three workers' campuses at Bridgwater Rugby Club, the former Innovia site (in Bridgwater) and on site at Hinkley Point C
Development at Combwich Wharf to help bring construction materials on site - development could take up to 18 months
All of these road and infrastructure improvements are set to take between one and two years.
Power station build
The nuclear power station site will cover about 170 hectares (420 acres). Among the main elements are two UK European pressurised water (EPR) reactors, turbine halls and an electricity substation.
Alistair Smith, the chairman of the power division at the Institution of Mechanical Engineers, has described the build as "the equivalent of building all the facilities for the London Olympics".
He said: "It would take about nine months to get the site mobilised to get the earthworks to prepare the ground.
"There's about three million cubic metres of earth to be moved and that's got to happen before the main construction teams can come in and they've got to build some tunnels to take the cooling water and bring the cooling water out.
"Those are over 3km long and so there is a huge tunnelling contract to be done and then you can start putting down foundations for the main construction."
Once the construction workers have taken the build to ground level, the next step is the more complex stage of building the reactors.
This is likely to start sometime in 2014, with mechanical and electrical works to start mid-2015.
This will be followed by about nine months to one year of testing before it can start producing electricity.
The first reactor is set to be operational by 2020, with the second ready by 2024, although delays can happen.
People and supply chains
During peak construction the project will employ about 5,600 workers.
So far 1,000 local companies have registered to the EDF supply chain and are going through the accreditation process.
"Each person has to be suitably checked for security, they have to be trained and brought on to site and have accommodation found for them.
"They've got to be induced into the way that they work on a site," added Mr Smith.
"When you have got such a complex site you have many different disciplines working alongside each other.
"It has to be a very well-planned project so every day you've got to know exactly what you're doing in relation to all the other contractors working round you.
"So the biggest challenge really is mobilising the workforce in a relatively short period of time, training them all and getting them working alongside each other together."
Although preferred bidders are in place, contracts are not issued until the nuclear build is approved by the government which can in turn create delays.
"When you are expecting a project to proceed and you start to get the labour force ready to work on it, so any delay brings a risk.
"You tend to work on other things so those people aren't just ready to go when the government decides when to proceed," he said.