From prison cell to email entrepreneur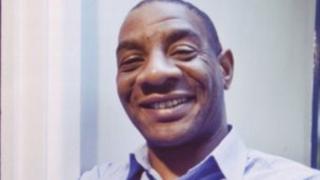 Derek Jones had his eureka moment in a Winchester prison cell 10 years ago.
After leaving the family home at 15, he had become a repeat offender by his 30s.
Upset because he had received no letters from his girlfriend, he came up with an idea. What about a special email service for prisoners?
At the time, the only way to have contact with family and friends was through visits, telephone calls or letters.
Mr Jones's business idea involved prisoners receiving emails.
'Constantly turned down'
Prison staff would print out the email and deliver it to the prisoner, as inmates are not allowed direct access to the internet or social media.
The sender would set up an account at a cost of 30p an email, while the inmate would pay nothing.
Mr Jones said it was not easy convincing people to back his idea.
He was "constantly turned down for funding" and said he had to work 12 hours a day washing up in a restaurant.
Mr Jones said: "Because of my criminal past I had no credit history.
"Also, people outside of the prison environment just could not understand the [Email-a-Prisoner] concept.
"So it was just me and a computer, which I had to take to Cash Converters in Bedminster every other week.
"They'd give me £120 and then I went back two days later and had to pay £190 to get it back."
Mr Jones, 41, has just sold his Bath-based company, Prison Technology Services, for a six-figure sum to Unilink Software. He remains chief executive officer.
He said he eventually built the company up to a turnover of about £3m a year, but said it took two years of "battering on prison doors" before Guys Marsh Prison in Dorset agreed to try the scheme in 2006.
'Lost and alone'
Deputy governor Dave Quinnell said: "Due to the prison's rural setting we were looking for ways to maintain contact with family and friends of prisoners because of its importance on the overall effect in reducing reoffending.
"We piloted the Email-a-Prisoner scheme after Derek had contacted us to trial the process.
"We currently receive on average 25 communications per day through Email-a-Prisoner and consider it a great addition to traditional methods of communication."
More than 150 UK prisons are now signed up to the service with more about to subscribe. The company has also recently expanded into the Netherlands, with prisons in other countries also expressing an interest.
Jaqcui, from Banbury, who did not want to give her surname, used the email service between 2008 and 2012.
She said: "Email-a-Prisoner is a godsend, I would have been lost without it.
"My partner was inside and I was left lost and feeling alone, then I found Email-a-Prisoner and saw that his prison was on the establishment list.
"I tried it and my partner rang me the following morning to say he got it, I was really impressed."
Mr Jones has just launched his next venture - a virtual academy for ex-offenders, and inmates nearing release, with the aim of helping them back into employment.
He said: "I believe many prisoners and ex-offenders have entrepreneurial traits which may have been misdirected in the past.
"The academy aims to reach these people and help them into self-employment, training or to take control of their lives to become a new start-up business.
"It doesn't matter what's happened to you in your past: if you're willing to change, you can change - it's about commitment.
"Just be a little bit selfish - and prisoners are good at that - a criminal record doesn't need to hold you back.
"Sometimes you've got to fail to succeed."