Parking fees 'may help traders' in Clevedon and Portishead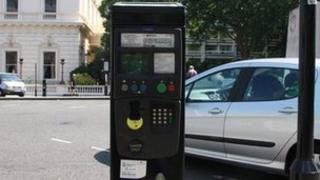 Introducing parking charges in two North Somerset towns could help traders, councillors have said.
A working party at North Somerset Council has been considering bringing in fees along the seafront at Clevedon and Portishead.
Working party chairman, Clive Webb, said parking charges in Weston-super-Mare boosted footfall and "proved quite popular".
The recommendations will be considered on 9 April.
Mr Webb said: "Weston had a bad problem just like Clevedon has and the introduction of parking charges has increased footfall and is remarkably quite popular.
"For Clevedon the reason is to help the traders by and large - the problem is we've can't afford to enforce the restrictions without having a charge."
The affected roads are the Esplanade at Portishead and The Beach and Hill Road in Clevedon.
Those using the open air pool in Portishead would be exempt from charges.
Some traders have said the parking fees could put off shoppers, although others believe it could free up spaces, as some people leave their cars along these roads all day.