Environmental permits granted for Hinkley Point station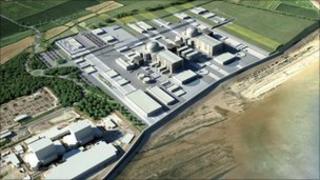 Three environmental permits enabling the operation of a new nuclear plant at Hinkley Point have been granted.
The Environment Agency permits cover the discharge and disposal of radioactive waste and cooling water and running of standby generators.
Brian Payne from the agency said the permits would "ensure people and the environment will be properly protected".
The final planning decision on the station is expected later this month.
All three permits set out strict levels and conditions for the emissions and discharge from the power plant. It has taken 18 months and a series of public consultations to get the permits approved.
'Important milestone'
Sea water will be pumped in via underground tunnels 2-3km (1.2 to 1.8 miles) in length to cool the two nuclear reactors and then back to the Bristol Channel. This water is expected to have low levels of radioactivity.
The other radioactive waste will also be processed and packaged on site. Higher levelradioactive waste will then be sent to a dedicated waste management facility.
EDF Energy project director for Hinkley Point C, Chris Bakken, said the permits were an "important milestone".
He said: "Having the permits in place this early in the project provides us with the clarity we need to build the processes, which will underpin the highest standards of environmental performance from the start."
The government and EDF are in negotiations to agree a contract for the guaranteed price the company will receive for the power it generates.
Even if the nuclear build gets permission, EDF would still need to confirm its intention to build the power plant.