Worle 'narrow gap' bollards to remain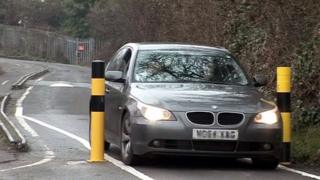 A local authority has said it has no plans to change a pair of "narrow gap" traffic bollards by a Somerset bridge.
They were installed on Moor Lane in Worle last month and some 450 people have signed a petition calling for their removal.
Complainants say the gap between the bollards, which enforce a width and weight restriction, is too narrow.
North Somerset Council said an alternative solution to strengthen the carriageway would be cost prohibitive.
It said the work would cost somewhere between £500,000-£700,000.
The bridge, which takes traffic across the railway line, is enforced with a width restriction and a three tonne weight limit.
The Conservative-controlled authority said the road and embankments were showing "signs of serious wear and tear" which was being added to by vehicles ignoring the restrictions in place.
'Absolutely ridiculous'
It added the newly-installed bollards, which are 7ft (2.1m) apart, and a traffic light system would enforce traffic regulations and protect the road from further deterioration.
Drivers claim the bollards are causing damage to vehicles, with wing mirrors being knocked off.
North Somerset Labour councillor Bob Bateman said: "It is absolutely ridiculous that damage is being done to cars because they are too close together
"Lorries and bigger vehicles can't get down there and they need to be lowered. It's a ridiculous situation, It's yet another thing that isn't thought through properly."