Paul Keene jailed for fiancee manslaughter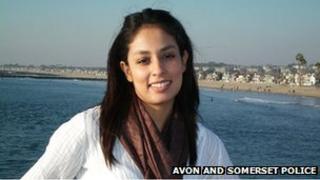 A man who killed the mother of his newborn child has been jailed for seven years and four months.
Paul Keene, 32, was sentenced at Bristol Magistrates' Court after being convicted last year of the manslaughter of his fiancee, Carmen Miron-Buchacra.
He was found not guilty of her murder during the trial in December.
The judge, Mr Justice Eder, told Keene the sentence handed down reflected "the horrifying circumstances which you inflicted" on Miss Miron-Buchacra.
During the trial, the jury heard the attack - in which he strangled Miss Miron-Buchacra - was captured in a voicemail message on a friend's phone.
Keene, an administrator for a financial services firm, and 28-year-old Miss Miron-Buchacra, known as Gaby, were planning to marry in her native Mexico later this year.
'Savage attack'
The PhD student was found dead on the bedroom floor of the couple's first-floor Georgian flat in Bath by emergency services on the night of June 23 last year.
Before the sentence was handed down, the court heard that it took 75 minutes for Keene to call police and the attack took place in front of the couple's baby.
The judge said Gaby's death was probably caused by her being strangled with an electric cable.
"In a sustained, prolonged and savage attack you killed her," he said.
"It was a vicious attack that lasted several minutes; we know this because she had many injuries on her face, arms, body and legs."
The judge described Gaby as a "beautiful woman" and also addressed the volatile nature of the couple's relationship.
'Emotional abuse'
As the sentence was passed Keene lowered his head and wiped tears from his eyes.
Adam Vaitilingam QC, defending, told the court there was psychological bullying in their relationship.
He said: "There was an intellectual imbalance which resulted in Mr Keene being belittled by the deceased.
"We would say this was a period of low-level emotional abuse; it went on for considerable periods. This culminated in the threat to take away a child.
"You saw the text messages passed between them; he was trying to be pleasant and her sending him pretty vile texts in response. This all led to that fatal moment."
The judge said that he accepted the threat to take away the daughter, and the cumulative effect of emotional abuse by Gaby over a significant period, caused Keene to lose control.
After the passing of the sentence, the family of Gaby said there was "no right or wrong" in the decision taken.
A statement said: "We must respect what the justice system has ordered because at the end of the day, each one of us will have to live with the consequences of our own actions."