Brewhouse Theatre rescue business plan goes on display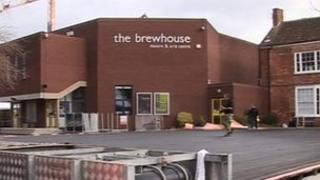 Plans to reopen the Brewhouse Theatre in Taunton have gone on display.
The Tone Theatre Association has been set up by Independent councillors Eddie Gaines and Steve Ross to develop the building into a community arts hub.
The association's business plan is due to be submitted to the theatre's administrators next month and residents have been asked for their views.
The theatre announced in February it was to close, blaming cuts in arts funding for the decision.
"We want to allow people input on how the Brewhouse can actually operate," said Mr Gaines.
"So that we can incorporate their thoughts and if possible adapt our business plan."
'Wean off support'
Taunton Deane Borough Council has provided the theatre with an annual grant of £152,000 which has been suspended pending the submission of a viable business plan.
An additional £35,000 payment to help the theatre put a business plan in place has also been given council support.
"Obviously we want to wean ourselves off this sort of support," said Mr Gaines.
"We want to run the Brewhouse as a commercially viable resource and I think there are a lot of people out there who are only too willing to help us organise that."