Privacy and dignity concerns at RUH, inspectors say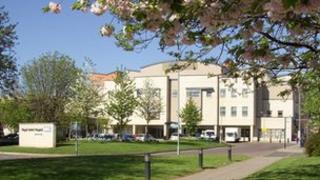 Healthcare inspectors have highlighted a series of concerns including a lack privacy and dignity shown to patients at Bath's Royal United (RUH) hospital.
The Care Quality Commission (CQC) inspection focussed on the day surgery unit and three wards for older people.
CQC deputy director Ian Biggs said the trust had to "look for ways of handling the pressures on its services for the long term".
The RUH has apologised and said it was working hard to address the issues.
'Poor arrangements'
Some of the findings included patients complaining they only had one shower to share among 22 men and women at the day unit, which resulted in long queues.
Inspectors were told the unit, which was designed for short stays, was too cramped and they were constantly disturbed by admissions at all hours of the day.
Staff also said they were too rushed to carry out patient checks. Inspectors also found the systems in place for checking and assessing patient care were inadequate.
Discharging patients was also an area of concern, where not enough was done to address ongoing care and treatment needs.
The hospital said emergency admissions had risen by 3% year on year and overall admissions had also risen by 6.4% for the January to March quarter.
"We know that the Royal United Hospital Trust has been under significant pressure from the sheer numbers of patients," Mr Biggs said.
"However this cannot justify providing care to patients which falls below the standards that we all have a right to expect."
A spokesman for the RUH said the hospital was forced to use its day unit due to demand and pressure.
"We have now further strengthened our system of daily reviews with a senior nurse. This means that patients who we find need to stay longer than anticipated are moved to an inpatient ward."
A new post of senior nurse has also been recruited to oversee patient discharges.
The inspection was carried out over three days in February.