Shepton Mallet prison closure marked with special service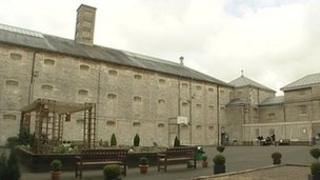 Former staff from the UK's oldest working prison have come together for a service to mark its closure.
The prison in Shepton Mallet was one of seven closures announced in January by the Ministry of Justice (MoJ).
The MoJ said it expects to save £63m per year by driving down the cost of running "old and uneconomic" prisons.
More than 200 prison staff - past and present - joined the Bishop of Bath and Wells, the Rt Rev Peter Price for the ceremony.
There has been a prison on the site, sometimes known as HMP Cornhill, since 1610.
The 189 inmates of the category C Lifer Prison have all been re-located.
Most of those are serving life for murder, with the rest seeing out long sentences for serious sex offences.
Staff who still had the full dress uniform were asked to wear it for the service - complete with hats and medals.
The Union Flag which flies above the prison was lowered before churches in the town tolled their bells and staff left the prison for the final time.
'Value for money'
Howard Hardman, a former probation officer at the prison, said it was "a very sad decision" to close the prison.
"The point about Shepton Mallet - along with with Kingston prison at Portsmouth, which is one of the others that is being closed - is they were the top two performing prisons in the country according to the last round of HMI (Her Majesty's Inspectorate of Prisons) inspections in 2010," he said.
"You don't create that very constructive rehabilitative type of environment overnight - it takes a lot of hard work by dedicated staff.
"That's just been thrown away by disbanding the prison suddenly like this.
"It has been a shock to the staff and I think it is a huge loss to the prison service."
Some 1,177 members of staff work at the seven prisons that are closing.
Out of 118 staff at Shepton Mallet 30% have taken redundancy and the rest have been redeployed.
In a statement the MoJ said: "We are determined to drive down the cost of running our prisons, this is why we are replacing older accommodation that is expensive to run with newer, cheaper and more efficient accommodation that will provide better value for money.
"We are working constructively with trade unions in order to avoid compulsory redundancies as far as possible."
The future of the site is still being considered, but some local people hope it will be turned into a museum.