Shepton Mallet 'village society' jail closes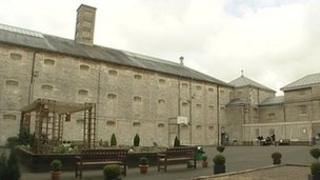 "It was a bit like a small village society where everybody knew each other by their first names."
Howard Hardman, is a former probation officer at the UK's oldest working prison, HMP Shepton Mallet, which has shut after opening on the site in 1610.
It is one of seven prisons nationally to be closed as part of government cuts.
The 189 inmates, which include murderers and sex offenders, at the Category C lifer jail have been moved to other prisons.
Speaking about life working within the prison walls, Mr Hardman said the country has lost one of its top rehabilitative institutions.
"It was a fairly unique prison really, because Shepton Mallet is quite a small place," he said.
"There are only about 36 uniformed officers and 189 prisoners so everybody knew each other by their first names.
"Many of the prisoners were very long serving, they were men who in a sense were stuck within the lifer system.
"Many of these guys didn't want to be moved on, they found Shepton Mallet had been a safe and secure environment."
Historical closure threat
Mr Hardman said he first visited Shepton Mallet in 1971 as a young probation officer.
"The staff then were talking about whether or not it would close - because it's a small prison that threat has always been hanging over it," he said.
"But it was a shock to everybody, and of course for the prisoners as well, who saw it in a sense as a home from home.
"They have had nothing outside, they had been in prison for so long, that there was very little in the world outside for them and they assumed they would continue there indefinitely."
The history of the prison - built on land once covered with cornfields and also known as Cornhill - has been well chronicled.
Francis Disney is a historian and was a Shepton Mallet prison library officer for 15 years.
He has looked back at the prison's history and written a book about it.
'Pigsty cells'
"There were times that were very terrible in the early days," he said.
"The prisoners had no segregation, they were all mixed in together, men, women and children from nine years of age upwards and that carried on for many years until the prison reform act came in.
"Sanitation was primitive, the cells were like pigsties and there were many diseases in the jail but from then slow improvements did take place."
Although the number of judicial executions in the prison's early years is unknown, seven took place between 1889 and 1926 with their remains buried in unmarked graves within the prison's walls.
During World War II, the prison's imposing 75-ft high stone walls housed the Magna Carta, the Domesday Book and the Logs of Nelson's Flagship HMS Victory for protection.
It was also used by the American military, with several of its soldiers executed in the prison.
The prison was taken over by the British Army in 1945 before being converted back to a civilian prison in 1965.
Mr Disney, who attended a special service to mark the closure, dressed in his prison uniform and medals, said it was a "significant day".
"There will probably be tears from all the staff and everybody here, it is quite sad really," he said.