Kilter Theatre performs play in back of van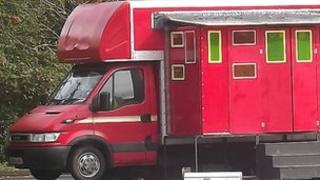 A Bath theatre company is staging its latest production in the back of a van.
Kilter Theatre's production of The Last Post is being performed in a Luton van, parked in a shopping centre car park in Salisbury, Wiltshire.
The tiny theatre, equipped with an orchestra pit for a single musician, can accommodate an audience of just 17.
Oliver Langdon, who plays one of the characters, said: "It's a little bit like being on telly - it's just extremely up-close and personal."
The hour-long production, billed as a "curious love story", has a cast of two and live music performed by a lone musician.
"It's about a redundant postmaster who meets an heiress of an international pen-palling agency," said Mr Langdon.
"And they spend a year in the back of a van travelling around the world collecting and delivering letters which would otherwise be undeliverable - letters and packages that cannot easily be delivered because they are scribbled, smudged, torn or incompletely addressed."
'Unusual places'
Converted to look like the character's mobile sorting office, the red Luton van is crammed with everything from old letters and postcards to furniture covered in stamps.
Caroline Garland, one of Kilter's founders and the second member of the cast, said: "We wanted to take theatre to villages and towns - and the best way to do that is from the back of a van.
"So we, basically, converted the inside of the van to make it look like something that has always gone around the towns and villages of England delivering the undeliverables.
"And because the characters live in this van - with a wind turbine powering our angle poise lamps - it's just like watching someone in their living room."
The Last Post is being performed in Salisbury on 3 and 4 April as part of Theatre Fest West.