North Somerset Council criticised over parking charges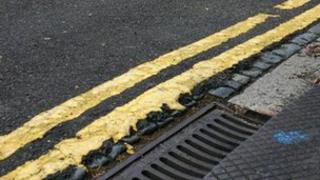 Avon and Somerset's police commissioner has criticised North Somerset Council for not running and enforcing its own parking charges.
Civilianised Parking Enforcement (CPE) involves councils enforcing on-street parking rules instead of the police.
Commissioner Sue Mountstevens said if CPE was adopted by the council it would "free up police resources".
The council said it had already removed unnecessary double yellow lines to help cut down on police costs.
North Somerset is the only authority in the force area which has not adopted CPE.
Deputy council leader Conservative Elfan Ap-Rees said: "We already have a compromise, in that we already have a pay and display parking in the congested area in the centre of Weston.
"We've taken away and we continue to take away double yellow lines where we don't think they're necessary and that reduces the need for police to do any enforcement to really the absolute minimum."
In North Somerset, the council enforces parking bays both on and off-road, but the enforcement of both single and double yellow lines remains with the police.
Ms Mountstevens said: "I am sure that North Somerset are looking at the merits and business case for CPE and assessing what represents best value for money for taxpayers.
"Currently every penny raised through police enforcement goes directly to central government. CPE would mean the money could stay locally and pay for the enforcement itself. This would free up police resources enabling them to concentrate on tackling crime."