First soldier for Afghan Heroes Retreat in converted Ashcott pub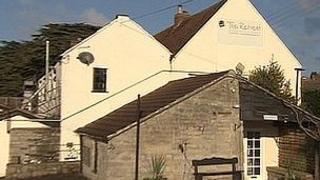 A soldier who has been living in a shed since leaving the Army has become the first resident at a Somerset retreat for ex-service personnel.
The Retreat at Ashcott has been set up above a pub by the charity Afghan Heroes to help soldiers returning from tours of duty in Afghanistan.
Former soldiers are offered counselling by a mentor and help with getting new qualifications and finding work.
Its first resident, Alex Fulford, said it seemed "almost too good to be true".
The Retreat, created in an ex-hostelry near Glastonbury, was opened at the end of last year.
Up to six former services personnel can stay in accommodation above a bar and restaurant which are both open to the public.
'Stuck in a rut'
Mr Fulford, who served with 1 Rifles on two tours of Iraq and one in Afghanistan, said he could "hardly believe it" when he heard about The Retreat.
"After I left the Army I found myself living in a shed and chopping wood - I knew I was stuck in a rut and I wanted to get back to work," he said.
"I have been let down so many times by people promising this and that it seemed almost too good to be true."
Denise Harris, who founded Afghan Heroes after the death of her son Cpl Lee Scott in 2009, said their first resident was a "defining moment".
"We have been working towards this for the past three years," she said.
"We now have the chance to give Alex the space and support he needs to get back on his feet."
Run with money raised through The Retreat's bar and restaurant, Mrs Harris said her aim was to build a further 10 or 11 such retreats around England.
"We always intended the Retreats to be able to stand alone as fully functioning businesses rather than rely on them being subsidised by the charity itself," she said.
"The Retreat has proved a real hit with the public and this has turned our dreams into a viable business proposition allowing us to offer people like Alex a new start."