Cheddar Reservoir feedback published after consultation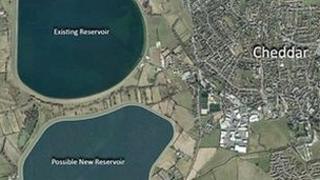 People see a major new reservoir planned for Somerset as "more of an opportunity than a threat", Bristol Water has said.
The company has published the feedback following the first phase of public consultation about plans for the £100m reservoir at Cheddar.
Some concerns were raised including the loss of trees, hedgerows, farmland and existing habitats.
A full planning application is due to be submitted at the end of the year.
Almost 500 people attended three public exhibitions in Cheddar and Axbridge with many returning feedback questionnaires, Bristol Water said.
The access and movement of construction traffic were also "clear concerns" with local residents, Bristol Water said.
A number of suggestions have been made to reduce this impact, such as not allowing HGVs to travel during peak times and key problem areas have also been identified, such as Five Ways Bridge.
'Positive and constructive'
Key issues were identified as the amenity uses of the new reservoir, traffic impacts during construction and environmental impacts.
Plans for the new reservoir include a visitor centre, swimming and water sport facilities, as well as a cafe and picnic areas.
Bristol Water said said people were largely "very happy" with the design and appearance of the reservoir.
The most popular suggestions for facilities at the new reservoir was the provision of nature trails, bird hides, and picnic areas.
Reservoir project spokesman Jeremy Williams said: "The feedback was positive and constructive. Most people seemed to recognise the need for a second Cheddar reservoir.
"There were those who opposed the scheme and a variety of concerns were raised, especially about traffic.
"We aim to address those concerns as we move forward in the process towards a planning application.
"However, it is clear that the new reservoir is generally seen as much more of an opportunity than a threat."
The second stage of public consultation is planned to take place at the end of June.