UKIP candidate Audrey Spencer's death delays Coker vote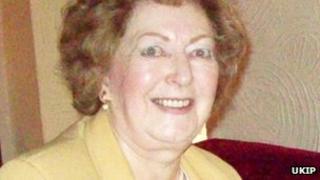 A Somerset ward's local election has been postponed following the death of the UK Independence Party candidate.
The election for Coker ward has been put back from 2 May to 16 May following the death of Audrey Spencer.
Somerset County Council has said replacement polling cards will be sent out to voters over the coming weeks.
UKIP has not yet selected a replacement candidate. Party leader Nigel Farage said Mrs Spencer had "vim and vigour".
Mrs Spencer was a councillor for Chard Town Council. She was also a trustee of Chard Museum, had worked in the local Tourist Board office, a local pensioners' forum and was also a school governor.
Mr Farage said: "She was one of those women who had a real presence and was extremely committed to local politics.
"She had vim and vigour and will be sorely missed. Our thoughts and prayers are with her family and friends."
Mrs Spencer leaves her husband Basil, two daughters and four grandchildren.
Other candidates standing in the Coker ward are Peter Bysouth for the Green party, Marcus Fysh for Conservatives, Murray Shepstone for Labour and Ian Stephen for the Liberal Democrats.