Somerset local elections are a 'two-horse race'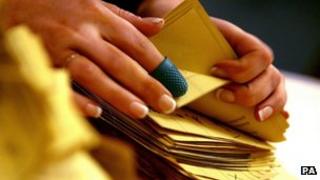 They may share power in Westminster - but they will be fighting for power in the West.
The Conservatives and Liberal Democrats have no time for cosy, coalition co-operation in Somerset.
The local elections on 2 May will be a fiercely contested two-horse race.
Over the last 10 elections, the council has been controlled by the Tories five times, the Lib Dems three times and on two occasions no party had a majority.
In 2009, it was the Conservatives who came out on top, ending a long period of dominance by their foes.
It was not an easy time to take charge, but the Conservatives set about cutting spending with vigour.
Public disgruntlement
More than 1,000 jobs have gone as spending has plunged. The administration reckon they have done well to freeze tax and save millions with minimal impact on services.
But the Lib Dems complain of waste. They say money has been badly spent, and complain of council failings such as an increase in fly-tipping.
However there are many candidates chasing anti-Tory votes. Labour only have two councillors in the chamber at present, but they are competing for every seat. They hope to profit from public disquiet at the coalition's cuts.
So do the UK Independence Party, who are riding high at the moment and are putting up their biggest-ever slate of candidates.
Many of their big issues are nothing to do with local government, but they hope that will not much matter on 2 May.
Also hoping to win their first seats by harvesting public disgruntlement with the big-three political parties are the Greens.
They pick up support across Somerset, though it is hard to see where they will muster enough votes in one place to come first.
With council spending set to fall further still, there is little space for big promises.
Instead, voters will be swayed by the record of those who govern - both in the West and in Westminster.