Teaching ban for ex head of sex abuser Nigel Leat's school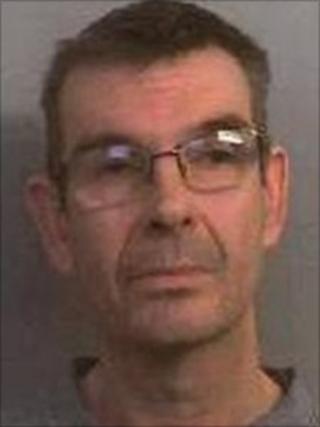 The former head of a school in Weston-super-Mare, where a teacher sexually abused girls, has been banned from teaching indefinitely.
Chris Hood, 55, was dismissed from Hillside First School after Nigel Leat's crimes were exposed.
Last year a serious case review found school management failed to act on Leat's increasingly sexual behaviour.
Following a Teaching Agency inquiry, the education secretary has approved the decision to ban Mr Hood.
Sexual offences
A report on the Department for Education's website said Mr Hood "cannot teach in any school, sixth form college, relevant youth accommodation or children's home in England".
Mr Hood is also banned from applying in the future to have his teaching eligibility restored.
Leat was jailed indefinitely in 2011 after admitting 36 sexual offences, at Bristol Crown Court.
The charges included one count of attempted rape, 22 of sexually assaulting a child under 13 and eight of sexual assault by penetration.
Mr Hood was head of the school, which takes children aged five to eight, from 2001 to 2011.
He went before the professional conduct panel last month.
The panel was told Mr Hood had failed to take appropriate action over incidents brought to his attention relating to the conduct of Leat.
'Positive changes'
Examples given included that of a school employee who reported concerns about photographs found on a school camera and felt Mr Hood was dismissive of her concerns.
A parent of pupils at the school and a colleague raised concerns that Leat was "too tactile" with pupils, in particular girls.
Leat had also been reported for having girls sitting on his lap, but Mr Hood did not record or report this further.
In 2008, several school employees expressed concerns about the relationship between Leat and a female pupil, which included physical contact such as hugging and tickling.
The panel concluded Mr Hood had failed to keep accurate records of all safeguarding incidents, he had failed to raise concerns, he did not support staff in raising concerns and ultimately did not meet his responsibilities as a head teacher.
Its 31-page report said the panel had considered mitigating factors such as Mr Hood being valued by the local community and Ofsted and that he "brought about significant and positive changes for the school".
The report added that it "noted the fact that Mr Hood had expressed remorse" but said his behaviour "was, and is, incompatible with being a teacher".
It concluded that it was "concerned that his behaviour is deep-seated" and therefore recommended an indefinite teaching ban in the public interest.