Bath Abbey gathers voices for oral history project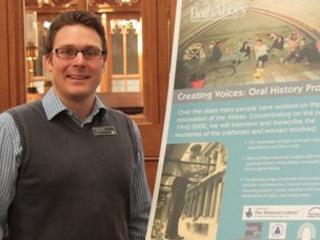 Bath Abbey has begun a project to create an oral history of the people who helped restore the building after World War II.
The 18-month project called Creating Voices also aims to form an archive of the individuals involved in ongoing work to care for the Abbey.
The stonework, sculptures, organ, stained glass windows, bells and clock have all been worked on since 1942.
The project is supported by the Heritage Lottery Fund.
"The unique memories that Creating Voices will record will bring the layers of history in the Abbey building to life for its visitors and the community to enjoy," said project manager Dr Oliver Taylor.
"We want to talk to anyone who saw or helped put back the Great East Window 15 years after it was blown out during the Bath Blitz (1942), or one of the restoration team who carefully cleaned the interior of the Abbey in the 1990s using hundreds and thousands of donated toothbrushes.
"We need the people who worked on the Abbey themselves or who know others that did to get in touch."
Bath Abbey welcomes approximately 400,000 visitors a year.