Cold weather puts Somerset hospitals under pressure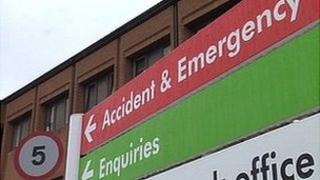 Somerset hospitals, under pressure from extra patients due to a long winter, have been forced to cancel operations.
Musgrove Park Hospital in Taunton said a "number of elective operations had been cancelled" due to "unprecedented demand for emergency care".
And Weston General Hospital in Weston-super-Mare said it had to "cancel some routine surgery" due to a lack of beds.
Paul Mears, from Yeovil District Hospital, said the hospital had been under pressure but was "coping".
A spokeswoman for the Weston Area Health NHS Trust said the unseasonably cold spring had brought "unexpected pressures".
"Normally the April period sees an easing off of the type of illnesses which are exacerbated by winter weather, such as respiratory and cardiac conditions," she said.
'Unprecedented demand'
"This year however, the post-Easter period has been as busy as January and February."
Karen Croaker, from Weston General Hospital, said a number of extra wards had been opened and "some routine surgery" cancelled to combat the influx.
"We're asking the public to think before they use the emergency department," she said.
In a statement, Musgrove Park Hospital said it had cancelled operations due to the "unprecedented demand".
It said: "We are working to give people a new date at the earliest possible opportunity. However, as we are continuing to see a high demand for emergency care this may not be as soon as we would hope."
Meanwhile Mr Mears, chief executive of Yeovil District Hospital, said its emergency department had also come under pressure.
"Patients have been very understanding where perhaps they've had to wait a bit longer then we would have liked in our emergency department," he said.