Flood-hit farmers disagree with how £600,000 fund being spent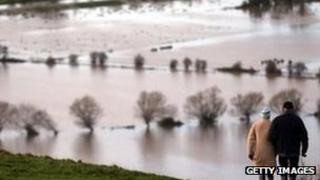 Flood-hit farmers on the Somerset Levels, who are being helped by a £600,000 fund, say they do not agree with how the money is being spent.
The money is being used to pay for four farm liaison officers who will offer one-to-one advice.
Farmers say any funds given to the area should be spent on dredging and clearing the rivers.
But the remit of the fund is specific and work on dredging rivers does not qualify, Natural England said.
The money has come from the EU and other sources, including Natural England, the Somerset Wildlife Trust and the Farming and Wildlife Advisory Group SW, following a bid put in by Somerset County Council.
Widespread flooding left businesses waterlogged three times last year and has left farmland under water for months.
Farmers 'annoyed'
Sheep farmer John Hebditch, who farms on the Levels near North Curry, said he lost everything during the flooding, with 90% of his grazing land affected.
"Most of the money is going to go towards paying the salaries of consultants who will be coming along to tell us what to do," he said.
Mr Hebditch said local farmers would prefer the money to be spent on dredging the rivers.
If that was not possible, he said: "It would be much better spent on providing seed or contractors or just general help for the farmers down here.
"Farmers have never been good at taking advice from other people, but to think of all that money going on consultants does get a few people annoyed."
James Diamond from Natural England said the money would help farmers managing the recovery of their fields.
"The farm liaison officers can help farmers and nature recover after last year's flooding," Mr Diamond said.
"This could be through helping to deal with waterlogged fields, help to arrange specialist contractors and to plan early field operations around nesting birds or help farmers work together to solve complex issues."
A spokesman for Natural England added: "The remit of this particular fund is very clear and work on dredging rivers does not qualify to receive funding via this programme.
"Dredging of rivers is a matter for the Environment Agency, and funding for this would need to be sourced in other ways."