Brewhouse Theatre ticket holders 'will not be refunded'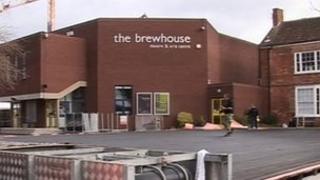 Administrators for the Brewhouse Theatre in Taunton have confirmed there will be no refunds for amateur dramatic groups and ticket holders owed money.
In a statement to creditors it emerged an estimate of over £80,000 is owed to advance ticket holders.
The report by administrators, BDO, added there was a "strong prospect the venue will be preserved".
The Brewhouse Theatre went into administration in February, claiming cuts in arts funding were to blame.
The statement said that while there was "formal interest" in the assignment of the lease and a temporary licence to trade "this will regrettably not generate sufficient value to enable any return to the unsecured creditors of The Brewhouse".
'Fairly angry'
The report showed that employee claims amount to £69,000, while claims from artists due to perform at the theatre come to nearly £130,000.
The Taunton Amateur Operatic Society gave the Brewhouse almost £12,000 in advance ticket sales.
Jill Venn, chairman of the group, said: "I would say I was fairly angry about it all. To take £12,000 worth of advance ticket sales, our shows cost us well over £30,000 to put on, it's a lot of money, it's a huge chunk."
The list of creditors in the report also includes Taunton Deane Borough Council which is owed nearly £12,000, while more than £75,000 is owed to HM Revenue and Customs tax office.
In total, claims made to administrators reach just over £500,000.
Arts Council England withdrew regular funding to the Brewhouse in 2005 and Somerset County Council cut its arts funding in 2010.