Catherine Wells-Burr murder accused 'comforted by her mother'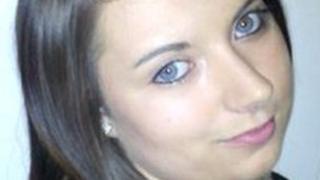 A man on trial for murdering his girlfriend was comforted by her mother as she lay dead a few miles away in her burnt-out car, a court has heard.
Rafal Nowak, 31, told Catherine Wells-Burr's mother, Jayne, that he had "lost his world and his future".
The Polish national's former partner Anna Lagwinowicz, 32, and uncle Tadevsz Dmytryszyn, 38, helped him put the body in a car and set it on fire, the jury was told.
All three deny murder.
Mr Nowak, a factory worker, is accused of killing his 23-year-old girlfriend as she slept - most probably by suffocating her with a pillow, the court heard.
Ms Lagwinowicz, and Mr Dmytryszyn, 38, are accused of driving the business analyst's body to a nearby roadside, placing her in the driver seat of her red Ford Focus and setting the car alight with petrol.
The prosecution alleges Mr Nowak hatched the plot with his former lover - with whom he is accused of rekindling a romance - and her uncle to get his hands on Miss Wells-Burr's six-figure life insurance policy, Bristol Crown Court was told.
Mrs Wells-Burr said Mr Nowak was treated like a member of their family and he called her "mummy".
"I cuddled him and I said Catherine loved him," she told the court.
"He said he hoped so and then he said he had lost his future, he had lost his world."
Richard Smith QC told jurors that Miss Wells-Burr went to bed as normal on the night of 11 September.
'Murderously awake'
"The sensible inference that we will be inviting you to conclude at the end of this case, from all the evidence, is she never probably woke up," said Mr Smith.
He said while she slept Ms Lagwinowicz and Mr Dmytryszyn made their way to join Mr Nowak.
"And so the early hours arrived," Mr Smith said. "Catherine is asleep, Nowak is murderously awake and his two accomplices have arrived in Chard.
"It may be that she was suffocated with a pillow, that is a possible scenario.
"Such was the state of her body that in those circumstances it is difficult to be certain.
"Nowak was painfully aware that it had to be a quiet killing because of the paper-thin walls - screams and violence would be noticed.
"Suffocated with a pillow may possibly meet that requirement."
Miss Wells-Burr's body was found in her burnt-out Ford Focus near the home she shared with the accused.
The trial continues.