Catherine Wells-Burr murder accused was possessive, court told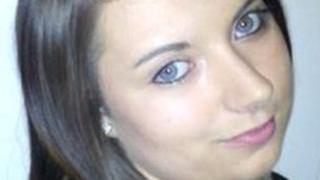 A man on trial for murdering his girlfriend was "possessive" and worried that she was going to leave him, the victim's father has told a court.
Rafal Nowak, 31, is accused of killing his partner Catherine Wells-Burr at the home they shared in Chard, Somerset.
His former partner Anna Lagwinowicz, 32, and uncle Tadevsz Dmytryszyn, 38, helped him put the body in a car and set it on fire, the jury was told.
All three deny murder at Bristol Crown Court.
The jury has heard evidence from Philip Wells-Burr, who worked at the Numatic factory in Chard alongside his daughter and her partner.
'Heated conversation'
He described Mr Nowak, who has a wife and son in Poland, as "possessive" and said he would bombard Miss Wells-Burr with phone calls.
"It was too much calling when she was supposed to be working," he told the court.
Mr Wells-Burr also recalled witnessing Mr Nowak cry when he thought Miss Wells-Burr was going to leave him, months before her death.
He told the court Mr Nowak had become upset when Miss Wells-Burr had a heated telephone conversation with her mother, something that prompted the factory worker to believe his partner was going to leave him.
Mr Wells-Burr said: "I said to just leave them be [Miss Wells-Burr and her mother], let mother and daughter sort out their problems."
He said he later saw Mr Nowak crying about the situation and told him to "grow up".
"Catherine wasn't very happy," Mr Wells-Burr said. "That's when he came downstairs all sorry, begging and saying: 'Don't leave me'."
The Bath Spa University graduate's body was found in September 2012 in her burnt-out Ford Focus near the home she shared with the accused.
The trial continues.