Landowners call for dredging of flood-hit Somerset Levels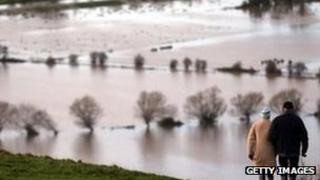 Landowners in Somerset are to urge the government to fund the dredging of rivers to avoid long-term flooding in parts of the region.
Environment Minister Richard Benyon is to meet Somerset business owners and farmers to discuss the issue later.
He is on a two day visit to the area to see first hand the affect last winter's flooding had.
Farmers are calling for more to be done to alleviate the problem.
In a statement, the Department for Environment, Food and Rural Affairs (Defra) said it needed to "target funding for flood risk management where it will achieve the greatest benefit in protecting people and property from flooding".
Businesses waterlogged
Widespread flooding on the Somerset Levels saw businesses waterlogged three times last year and left farmland under water for months.
Nick Stevens, of the Somerset Drainage Boards Consortium, said if dredging had taken place prior to the heavy rainfall, then serious flooding would have been "greatly reduced".
He said if the matter of long-term flooding is not properly dealt with, it will lead to the area becoming "abandoned" and the businesses going bankrupt.
Bridgwater craft centre owner, Steven Loveridge said: "Find the money from somewhere and get the dredging done this summer."
Defra said that alongside the Environment Agency it has been working with local drainage boards, the county council and others to assess the costs and benefits of options to better manage future floodwater in Somerset, particularly in the Curry Moor area.
Earlier this week it was announced that part of a £600,000 fund would be used to pay for four farm liaison officers who would tackle a range of issues affecting the recovery of the wetlands.
The money has come from the EU and other sources, including Natural England, the Somerset Wildlife Trust and the Farming and Wildlife Advisory Group SW, following a bid put in by Somerset County Council.
A spokesman for Natural England said the money has a specific remit and could not be used to fund the dredging of rivers.