Call for better access at Bridgwater railway station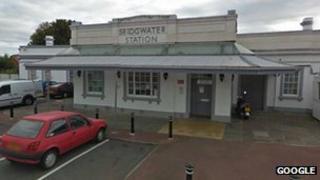 A railway users group is calling for improved disabled access at Bridgwater railway station in Somerset.
The Friends of Bridgwater Station said there was no wheelchair access between platforms one and two, forcing people to cross a busy main road.
The group wants the station to be considered for the government's Access for All funding to pay for ramp access.
The Department for Transport (DfT) scheme has been set up to address problems faced by disabled passengers.
The Friends of Bridgwater Station said it had contacted the DfT and First Great Western (FGW) about the issue.
'Important issue'
A spokeswoman said: "It is just totally unsatisfactory in this day and age that no thought has been given to how people can access the station."
She said the situation was made worse by the station's "poor" opening hours.
FGW, which operates the station, said it has to prioritise "which station improvements will benefit the most number of people", and said it will consider accessibility at Bridgwater in future works programmes.
A spokesman for the DfT said it knew the quality and accessibility of stations was an important issue for passengers.
He said that was why the £370m Access for All programme was delivering "step free" access at more than 150 stations and other access improvements at more than 1,000 stations.
"Furthermore, we have announced a further £100m to extend the programme from 2015 to 2019, and while we cannot guarantee Bridgwater will be included, it will be considered along with other inaccessible stations across the country," he said.