Chew Stoke flood car death 'was an accident'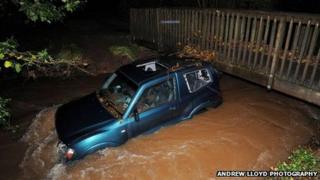 A grandfather who drowned after his car became wedged under a footbridge in flash floods had been trying to avoid a ford, an inquest has heard.
John McNair, 77, became trapped after his vehicle was picked up by the water and carried down a swollen stream in Chew Stoke, Somerset, on 22 November.
The inquest heard that Mr McNair, from Painscastle, Powys, was trying to visit relatives and knew the area well.
Avon Coroner Maria Voisin recorded a verdict of accidental death.
Flax Bourton Coroner's Court heard that Mr McNair, who was described as a cautious driver, was trying to drive around the flooded ford when the force of the water floated the car.
'So deep'
PC Philip Howells, of Avon and Somerset Police, told the inquest he believed the water had been approximately 4ft (1.2m) at the time Mr McNair was swept away.
A post mortem examination revealed Mr McNair's lungs had become filled with water and that he had bruising to his forehead.
In a statement read to the inquest, Mr McNair's son James said his father, a retired financial director, knew the area well.
"He was familiar with the lane being flooded. I believe the water was so deep that it floated the car down the road," he said.
James McNair said the area was susceptible to flooding and added the signage in the area, which has been put in place since the accident, remains "inadequate".
'Not sufficient'
Coroner Maria Voisin concluded that Mr McNair was unlikely to be crossing the ford, but had tried to go around it.
She said: "The car started to float and was dragged backwards. It quickly filled with water and there was little or no time to escape the vehicle."
She added that she would be talking with the local authority about more appropriate signage.
Speaking after the inquest, Mr McNair's daughter, Cathy Purves, said the family were happy with the verdict and that the coroner would be making a report about better signage.
"The highways authority have already changed the signs that are up around that area. We don't believe that it is sufficient. We would like to see more warning signs up there," she added.
"He wasn't driving across the ford, which would have been madness, the car actually floated off.
"It was a freak accident but as we all know the weather has been very extreme and how are we to tell that it won't be like that again."