Yeovilton's 847 squadron returns home from Afghanistan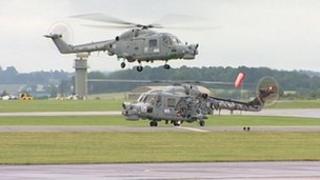 About 50 service personnel from 847 squadron have returned to RNAS Yeovilton after their fourth and final deployment to Afghanistan.
Over the past five months the squadron has delivered troops around Helmand.
They have also worked closely with the International Security Assistant Force and Afghan forces.
Commanding officer, Lt Col Nick Venn said the squadron had been able to "punch above their weight" despite only having a small pool of aircraft.
He said that despite the challenges of working in the desert conditions, the fleet of helicopters have flown a total of 650 hours, with a serviceability rate of 83%.
Another focus during the deployment was handing over to the Army Air Corps as part of the staged withdrawal of UK troops.
'Important goal'
"In no small part, the work of the Squadron has also contributed directly to helping create the secure environment that the Afghans need as they move towards effective self-governance and security; the same secure environment that will allow the UK to leave Afghanistan in due course.
"Our most important goal is to pass on our recent experiences and knowledge, making certain that the Squadron replacing us is best placed to contribute positively to the campaign, whilst remaining as safe as possible," added Col Venn.
This final deployment also marks the last tour for the Lynx helicopter.
Future military missions will see the squadron use the new Wildcat helicopter.
Training for this new model will get underway soon, making them the first military squadron to move over to the new helicopters.