Bath house's '18th Century housekeeper' job taken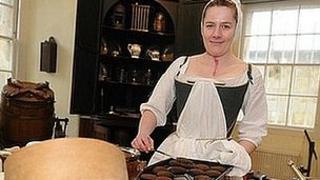 A vacancy for an "18th Century housekeeper" in a house in Bath's Royal Crescent has been filled by four separate people.
The candidates will share duties at Number 1, Royal Crescent and run tours of the house's museum when it reopens.
The job comes as a result of a £5m refurbishment plan to reunite the house with its servants' wing next door.
Caroline Kay, from owners Bath Preservation Trust, said: "We think the new staff will do a fantastic job."
On its reopening on 21 June, the museum's new housekeepers will dress up in 18th Century costume and greet visitors at the front door before showing them round.
Mrs Kay said: "The role is actually quite unlike how it would really have been in the 18th century.
"This person will have to be extremely gregarious, chatty and welcoming. The original role would have been much more hidden away and reticent."
Mrs Kay said about 20 people applied for the job.