Cheddar reservoir excavations begin to check for remains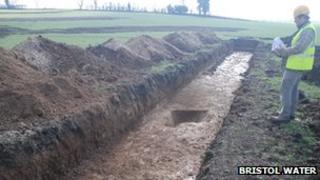 Archaeological investigations are due to begin at the site of a planned £100m reservoir in Cheddar, Somerset.
More than 180 trenches will be dug over eight weeks around Bristol Water's proposed site by expert teams from Wessex Archaeology.
"The programme is part of the environmental assessment to identify areas where archaeology is present," said project spokesman Jeremy Williams.
The results will influence the future design of the proposed development.
The Somerset Levels, where the trenches will be dug, are considered to be one of the richest areas for archaeological remains in Britain.
"The work will enable suitable mitigation measures to be designed and implemented in the event that the development proceeds," said Mr Williams.
Trenching is used to determine the extent, nature, age and state of preservation of any remains.
The trenches are dug by mechanical excavator before archaeologists move in to carry out hand excavations and record any findings in detail.
The work has the landowners' permission.
Bristol Water said the new reservoir would help meet the future need for water across its supply area.