Nelson Mandela death: Somerset's part in South African history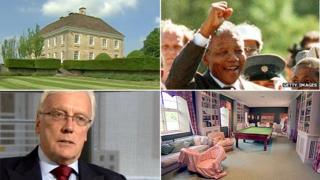 As the world mourns the death of Nelson Mandela, few people know how his life was transformed following a series of secret meetings in Somerset.
In 1990, the revered campaigner was freed from prison - partly as a result of a series of negotiations in a private mansion near Frome.
Apartheid laws were also relaxed and the ban was lifted on Mandela's African National Congress (ANC) party.
It was not South Africa that hosted these private peace talks but Mells Park House, some 9,000 miles (14,484 km) away.
At the time the estate was owned by mining company Consolidated Gold Fields (CGF), which had major assets in South Africa.
In a bid to protect those assets, employee Michael Young put himself in great danger by becoming the instigator of the talks.
'Regarded as terrorists'
He spent a year identifying the right people for negotiations and invited people including Thabo Mbeki of the ANC and South African government officials.
His chairman had threatened to denounce him if the talks became public knowledge and Mr Young said he also lived with the threat of assassination.
"We were all taught to look under our cars for devices, post had to be carefully vetted and I was getting calls at my home at about four in the morning from people indicating that they knew what I was doing and I'd better watch my back," he said.
"South Africa was then under the regime of PW Botha, a very orthodox apartheid fellow, and white people were extremely nervous about beginning talks with people they regarded as terrorists," added Mr Young.
"So it took some time to find those people who were brave enough to come forward and participate."
So with the right people invited, the right hideaway became crucial for the several gatherings which took place over the course of a few years.
Mells Park House had been used by CGF as a rural retreat for conferences and was a place of some security. It was perfect, so Mr Young persuaded his chairman to let him use it.
South Africa had not been an option for talks as the ANC was banned, its leadership including Mandela locked up in prison, and government officials would have been prevented from taking part in any meetings by the security services.
"Mells Park House was a safe and secure venue which is comfortable and which lent itself perfectly to the function that we needed to perform," said Mr Young.
"Issues such as the release of Mandela - where could he go, how did you prevent a riot, what does cessation of violence mean and what is the nature of the post-apartheid economy - all of those issues were issues that we had debated at length during our five years in silent discussion."
'Lived together'
Peter Smith, from Frome, worked in the estates department for CGF at the time and bought Mells Park House for the company.
He knew nothing of the talks until a decade later but has since done his own research into the story.
"They lived together, ate together, walked the grounds together and they got to know each other, and that was one of the great benefits of that type of negotiation," he said.
"I worked in Frome and the whole thing was organised by CGF from London. Security was obviously extremely important.
"They were all brought in by car, so they came straight in and wouldn't have walked around locally, so it wouldn't have been known at all."
Mells Park House is currently owned by the Earl and Countess of Oxford and Asquith.
Its secret guests have since been the subject of a book by Robert Harvey - The Fall of Apartheid: The Inside Story from Smuts to Mbeki - and a film by Daybreak Pictures called Endgame.
The film's producer, David Aukin, described Somerset's connection as "remarkable".
"Signals were being sent back and forth from these talks that made it very clear that the first step in dismantling apartheid would be releasing Nelson Mandela," he said.
"These talks were so secret that when I told South African friends who were politically savvy they refused to believe they had actually taken place."
The tremors from the meetings may have shaken South Africa, but in comparison very few ripples have been felt in Somerset.
However Bob Smart, from the Somerset Tourism Association, said the county's involvement did not surprise him.
"Somerset has got a number of great houses, and those great houses over the centuries have been associated with a number of events," he said.
"You expect the unexpected in a place like this.
"I'm delighted to hear that some of it has played a role in major changes in world cultural thinking in the late 20th Century."