Bath artist David Cobley to sell works to fund studios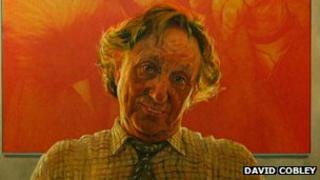 An artist from Bath is to sell off about 400 portraits to help raise money for a permanent home for an art studio.
David Cobley is donating 50% of the sale of his work to registered charity Bath Artists Studio to purchase and redevelop its site at The Old Malthouse.
The sale takes place this weekend at an exhibition at the studios which he helped found in 1996.
Mr Cobley said: "I'm doing it to draw attention to Bath Artists Studios."
He said it is a "great and thriving" place but a lot of people in Bath do not know about it.
"We want to buy our own building as we lease at the moment and it is up in 18 months and beyond that, who knows," he added.
"It's really important that Bath has a permanent home for what we do."
Among the paintings and drawings for sale include a portrait of the comedian Ken Dodd and one of the Queen.