Glastonbury Festival 2013: Local groups welcome £500k boost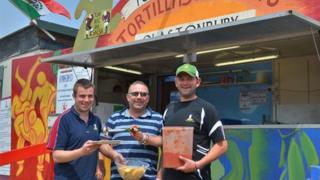 Glastonbury has become an important source of income for the charities, societies and residents that live and work in the vicinity of the festival site.
Some can earn money either by running stalls or stewarding.
For others, it's an opportunity to raise cash by letting out their homes for festival goers.
Last year, Glastonbury estimated local groups would have lost about £500,000 when the festival took a one-year break.
Here some of those groups tell us why Glastonbury is so important:
Tor Rugby Club
The club sells Mexican food which has become a vital part of the club's revenue.
Club president Malcolm Dykes said: "We can go anywhere between £10,000 to £20,000. It all goes into our club profits, it's our lifeline for the rest of the year."
The money has enabled the club to buy equipment including a tractor to mow the pitches and a scrummage machine for training.
"It brings everybody together for some really hard work which is worth a lot of fundraising over the year - so it replaces to a certain extent raffles, things like that," added Mr Dykes.
Friends of West Pennard School
Friends of West Pennard School is paid about £18,000 for providing stewarding services.
Andy Townend is in charge of organising the stewarding.
He said: "West Pennard do very well out of it - over the years they've used it for some IT, they have put in a soft play area to replace one that been decayed.
"With some help from an extra donation from Michael Eavis, they put in a completely new music room and library block."
Carnival clubs
Somerset is home to Europe's largest illuminated carnival procession, which takes in Bridgwater at the beginning of November.
Several carnival clubs work all year round to raise funds to build their carts, which can cost in the region of £20,000 each.
Some, such as Harlequin have a security role while Masqueraders Carnival Club has for the past 25 years sold milk wholesale to the stalls and milk and fruit juice from its own stalls.
Chairman Tom Gerrish said: "We buy from the dairy - they deliver it at 5am and we go out at 5.45 to the stands. We've got our own stands which open at 8am as well.
"It's very important to the club - the bulk of our fundraising comes from this - it's a full time job."
Gemini Carnival Club members help load up coaches at the Bath and West Showground, which is a drop-off point for festival goers.
The club's Gary Bealey said: "We've been doing this for six years now. It was specially brought in to keep the main road clear so mums and dads can bring in their sons and daughters and drop them off here."
The club will be paid between £4,000 and £6,000.
House lettings
About 175,000 people are expected to be on the Worthy Farm site for the music festival but for some the idea of camping is not such an inviting prospect.
Holiday Lettings said many homeowners either leave for the week or even camp out in the garden to make room for festival goers.
Kate Stinchcombe-Gillies from the firm said: "What we're seeing more and more is actually people going away themselves and letting their own homes out to festival goers and using the money to go on holiday themselves."
She added the average house would generate up to £500 but had another property advertising a tariff of nearly £3,000.
Kate Lewis owns a farmhouse in Pilton that she has been renting out for the past few years.
She said: "It's just a bit of extra money - we rent out whatever accommodation we've got. We live so close to the festival, you can see it from here and it pays for our holiday as well.
"It is a bit of hard work, but it's fun as well. We've got to meet some great people."