Bath Ales and Abbey Ales in 'similar name' battle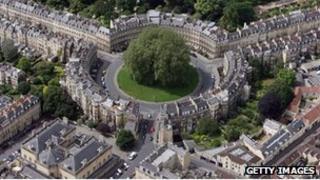 Brewer Bath Ales is battling to stop another firm in the city from starting a company with a similar name.
Abbey Ales, based in the city's Camden Row, wants to set up a new subsidiary called Bath Brewing Company.
Bath Ales, which is actually based in Warmley, South Gloucestershire, said that could lead to confusion with beer drinkers.
Solicitors on both sides are looking into the case.
'Totally unfair'
"We brought the first brew out, which was extremely successful, and then we got a complaint from Bath Ales saying that they objected to us using the Bath name," said Alan Morgan, who runs Abbey Ales.
"We're brewing in Bath and we're a Bath company - it just seemed to make sense.
"I also feel it's unfair that a company that have never brewed in Bath can object to a company based in Bath, calling themselves the Bath Brewing Company Limited.
"We pay Bath taxes and Bath business rates. It's just totally unfair".
Founded in 1997, Abbey Ales owns four pubs in the city of Bath.
Bath Ales was established in 1995, and has 10 pubs in the west, including establishments in Bath, Bristol and Cirencester - its first pub opened in Bath 1997.
Roger Jones, from Bath Ales, agreed that Mr Morgan had a "good point" but it wasn't true to say the company had never brewed in Bath.
"We do have a big presence in Bath now with the Graze Brewery, Bar and Chophouse which is right next to the station and we're brewing there these days," he added.
"There's no real problem, there is room for everybody. We have a deserved reputation for quality and we just want to protect that, and not confuse the consumers really."
'Passing off'
Mr Jones added that a similar move to register the Bath Brewing Company Limited as a trademark had previously been undertaken by The City Pub Company (West) Plc.
"They accepted we had prior rights, so they withdrew the application," he added.
Andrew Gregg, a solicitor from Gregg Latchems in Bristol - who is not associated with either company - said whilst he "had sympathy" with Abbey Ales, Bath Ales had a good case.
"It's my opinion and view that if the Bath Brewing Company were to try and set up and use that name, they would find themselves on the wrong end of what's called a Passing Off Action," he added.
"I am in no doubt that, if the matter where to come to court, that the Bath Brewing Company would have to admit - or be found guilty of, whatever you want to call it - passing off that name."