Baroness coach crash: Safety charity critical of 'paltry' driver fine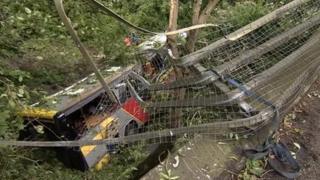 A road safety charity has criticised the "paltry" fine handed to the driver of a touring band's coach, which plunged off a viaduct near Bath.
Norman Markus pleaded guilty at Bath Magistrates' Court to careless driving and using a vehicle with defective brakes and was fined £365 in total.
Other charges against him, including dangerous driving, were dropped.
The charity Brake said "potentially-lethal illegal driving" should be treated much more seriously.
Markus and eight people with US band Baroness were injured when the coach crashed at the bottom of Brassknocker Hill, Monkton Combe, last August.
Markus suffered serious leg and pelvic injuries and his passengers' injuries ranged from cuts and bruises to damaged vertebrae.
'Fitting punishment'
On Wednesday Markus was fined £265 for careless driving and £100 for using defective brakes.
He was also ordered to pay costs of £35 and a victim surcharge of £26.
Brake spokesman Richard Coteau said: "It is completely inappropriate for such a paltry fine to be given to someone whose highly-risky behaviour has resulted in serious injury to multiple victims.
"Unfortunately, it's all too common to hear of people who have taken risks on roads and caused casualties being let off with very low penalties.
"Brake believes anyone whose bad driving has resulted in injury or death should be prosecuted under a dangerous driving charge and given a fitting punishment in line with the risk they posed and suffering that resulted."
Avon and Somerset Police has declined to reveal the total cost of the investigation but said 43 officers and PCSOs were involved at the crash scene.
"On average each officer was involved for three hours resulting in 129 police hours," said the force.
"About 236 staff hours have been spent on the subsequent investigation to date giving a rolling total of 365 hours."
A police spokesman said it had fully investigated the circumstances of the "serious incident" on behalf of the Crown Prosecution Service and that it respected the decision of the court.
Brake campaigns to reduce road deaths and injuries, and aims to "cut the carnage and support accident victims".