TV host Justin Lee Collins fined for speeding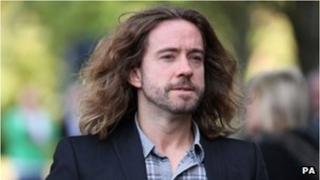 TV presenter Justin Lee Collins has been fined £327 for speeding on a motorway near Bristol.
The comedian, 38, pleaded guilty to driving the car at 76mph when subject to a 50mph limit on the M5 on the evening on 28 September.
Collins, of Bermondsey, London, was caught speeding between Almondsbury and Cribbs Causeway.
He was due to stand trial at Bath Magistrates' Court but did not attend as he pleaded guilty by post.
Changed plea
Peter Norris, chairman of magistrates, said Collins' guilty plea was taken into account when deciding on his fine.
The court was told Collins initially pleaded not guilty to the offence but then changed his plea to guilty.
Collins was asked to provide a statement of means but did not, the court was told.
He is one of more than 20,000 motorists who have been caught speeding in the roadworks near Almondsbury.
The comedian, who starred in The Friday Night Project, was convicted of harassing ex-partner Anna Larke at St Albans Crown Court in October 2012.