Job loss risk at Bath-based Future Publishing as company moves to digital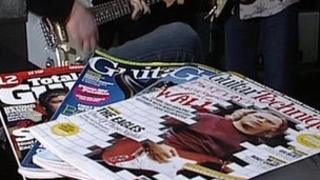 Magazine publisher Future Publishing said it could not rule out job losses as part of cost-cutting measures.
The firm, which employs about 900 staff in Bath, wants to save up to £2.5m after its three-monthly figures were "below expectations".
It said the company's business model was still "primarily geared towards print" and it needed to be better aligned towards digital publication.
A spokesman would not confirm how many jobs were at risk.
"Inevitably there will be some headcount reduction but we haven't got any specific number in mind," he said.
'New games consoles'
"It's an ongoing programme as we re-shape the business to take advantage of new opportunities - we recently streamlined our senior management structure - and we're simply bringing the next phase of that activity forward."
Chief executive, Mark Wood, said the company was seeing "encouraging trends" ahead of new games consoles being released and that he anticipated significant revenue and profit growth in the coming year.
BBC West business correspondent Dave Harvey said while most publishers had struggled with the digital revolution, Future has managed to create websites which are both popular and commercial.
"Their problem may be a reflection of what's happening to the wider games industry and the competition from free games and apps," he added.
In the three months up to June, Future Publishing saw a 24% year-on-year grown with advertising revenues approaching 60% from digital markets.
Digital edition revenues for tablet computers are also up by 50% on a year ago, the report also mentions.