Wildlife centre rescues 278 animals during heatwave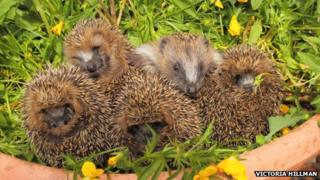 Nearly 300 animals have been rescued by a wildlife charity in Somerset during the recent heatwave.
Secret World near Highbridge, has said bats and swifts have been struggling to feed as insect numbers have fallen due to the lack of rain.
The centre has also seen more than 80 hedgehogs brought in which has included 30 orphaned hoglets.
Centre founder, Pauline Kidner, said: "We've never seen so many hoglets at this time of year.
"We think that the mothers are unable to find food which means they are not able to produce the milk needed to feed the young," added Ms Kidner.
Animal charity, the RSPCA, said its wildlife rescue centre in West Hatch, near Taunton, had 540 herring gulls brought in over June and July.
It says the increase is due to more people being outdoors who have spotted gulls, as well as difficult nesting conditions in the hot weather.
The RSPCA spokesperson added staff had not seen any increase in the number of mammals admitted.