Somerset canal weeds to be eaten up by 1,000 weevils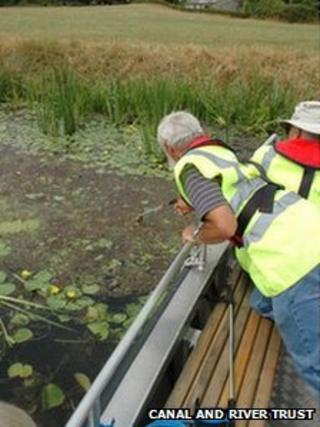 Scientists have dropped 1,000 weed-eating weevils into a Somerset canal to tackle an aquatic fern which is causing problems for fish and other wildlife.
The small insects are 2mm-long and were released into the Bridgwater and Taunton canal to tackle the problem of the invasive plant azolla.
Richard Haine of the Canal and River Trust said: "They breed quickly and eat azolla, so should be effective."
He said they would monitor the weevils' progress over the next few weeks.
'Pre-emptive strike'
Mr Haine added: "Azolla might look attractive, but it's actually a serious threat to water wildlife across the country.
"With the warmer weather there's a danger that it can completely take over sections of the canal, so the weevils are our pre-emptive strike."
He said the species of weevil (Stenopelmus rufinasus) which they put into the canal at Kings Lock only eat this particular water weed, which is native to North America.
The plant multiplies rapidly and can cover the surface with thick mats which then reduces light and oxygen levels in the water.
This can result in the deaths of fish and wildlife, and affect boaters and anglers use of the canal.
He explained that individually the creatures would eat a small amount, but that they breed very quickly and were capable of clearing entire lakes "within a matter of weeks".