Kayakers rescued from Bristol Channel after 999 'mayday'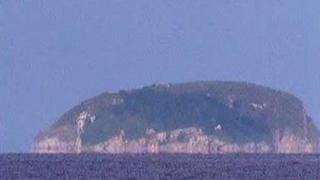 Two kayakers were "very fortunate" to be rescued after being thrown out of their boats in the Bristol Channel.
The pair had been staying on Steep Holm island and were making the crossing to Brean, Somerset, on Sunday.
One managed to make a brief 999 call to Swansea Coastguard and gave their position before being cut off.
Coastguards broadcast a mayday signal on their behalf and the crew of a passing motorboat rescued them before they were airlifted to hospital.
Paul Dexter, chairman of the trustees for Steep Holm, said the kayakers were staying on the privately-owned nature reserve without permission.
"Steep Holm is notoriously difficult to get to due to the extremely dangerous currents.
"We deter kayakers from attempting to land, however there are occasions where we have allowed those with significant experience of the Bristol Channel to stop at the island to rest, and then only with our prior knowledge and permission, and after the payment of a landing fee," Mr Dexter added.