Somerset farmers blockade supermarket depot over milk prices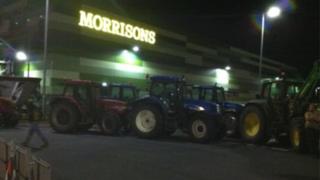 About 100 farmers and 20 tractors blockaded the Morrisons supermarket depot by the M5 in Somerset as part of a protest over the price of milk.
Farmers for Action said although they received a higher price per litre last year they were now making a loss due to rises in the costs of production.
Dairy UK, which represents milk processors, said it was "dismayed" and blockading caused a "needless cost".
Protestors arrived at 20:15 BST and remained there until midnight.
'Deep regret'
Chairman of Farmers for Action David Handley said he had handed a letter in to Morrisons.
He said: "The letter states that it is with deep regret we find ourselves here tonight.
"But we've been told by the processors that the company is refusing to pay better prices and we want to give the company the chance to respond."
He said another protest was planned for next week if Morrisons did not respond.
A Dairy UK spokesman said blockading caused disruption and was "not a sustainable way to take the industry forward".
"That can only be achieved by progress in efficiency, consolidation, innovation and collaboration."
Farmers were now working "much closer than ever with their processors", he said.
"This has resulted in milk price movements and significant innovation in contracts."
James Badman, who farms at Panborough near Wells, said: "[Price] increases were put in place which were only barely in line with the costs of production.
"Now we're seeing further costs when the market can't be prepared to pass back more."
Dairy farmer James Hole, from Heaphouse near Wedmore, said: "We're not asking for a handout, we're not asking for extra payments.
"We're asking for a fair price for a fair product."