Tropicana demolition plans blocked by government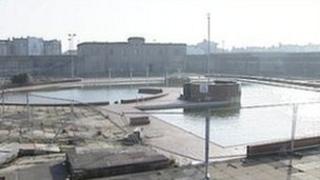 A derelict open-air seaside swimming pool has been saved from demolition after plans were blocked by ministers.
North Somerset Council wants to knock down Weston-super-Mare's Tropicana pool but the Secretary of State has refused consent.
The authority has responded saying it welcomed the clarification and could now move forward with viable proposals.
Weston MP John Penrose said he hoped the decision would clear the way for the redevelopment of the site.
In the government's written response to the council, the local opposition to the demolition was highlighted as well as potential for the site's redevelopment.
"The Secretary of State also considers that the refurbishment of the Tropicana would preserve and enhance the character and appearance of the Conservation Area," read the letter.
It also noted that circumstances could change in the future leaving demolition as "the only real practical option available".
'Very frustrating'
The council said: "We can now move forward and try again to identify viable proposals from the private or community sector which properly meet EU regulations and the needs of visitors and residents.
"Other options have already been under consideration during this hiatus and we will continue to progress these until we can make a decision."
The Tropicana, on the seafront, has been closed for 12 years.
Trop (WsM), a group of local businesses, has led the way with campaigning as well as getting plans approved to redevelop the site and reinstate a pool.
Derek Mead, a local independent councillor and developer for the group, said although the government's decision was good news, money to develop the site was still needed.
"We have wasted two years messing around over this, we have wasted a lot of money getting where we are and missed £20m-worth of coastal funding for which The Tropicana - in a deprived area - ticked all the boxes.
"So it is good news but it is very frustrating."