Badger cull: First pilot in Somerset believed to be over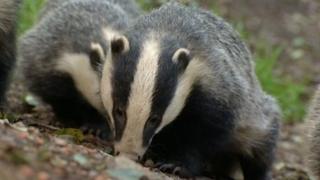 A six-week cull of badgers in west Somerset is believed to have ended.
The controversial pilot, which has been heavily fought by campaigners, was overseen by Defra in an attempt to stop the spread of TB in cattle.
A similar pilot in west Gloucestershire is thought to still be under way. Marksman in both counties are aiming to kill a total of 5,000 badgers.
Defra has refused to comment on the success of the cull and neither it nor the NFU could confirm it has ended.
Jay Tiernan, spokesman for Stop the Cull, said protesters had "totally destroyed" the pilot.
Every night for six weeks, volunteers held patrols of both cull zones to monitor badger setts and worked to disrupt the marksman from shooting.
Avon and Somerset Police said just three arrests had been made during the six-week period. In Gloucestershire, 18 people were arrested.
Mr Tiernan said the methodology behind the cull "isn't sound".
He added: "There's a group of badgers, you start shooting them and they disperse.
"Secondly the shooters can't get at the badgers to shoot them because we're there."
The government licensed the shooting to test whether culling can be carried out in a safe, humane and effective way.
It will analyse the results from both pilots to decide whether to extend the culling of badgers to other parts of the country.
Supporters say it is the only way to eradicate the spread of TB to livestock.
James Small, the Somerset chairman of the National Farmers' Union, said: "These are only two pilots and just represent a small step in trying to combat this disease, but I think there is a sense, at least, that a step has been taken."
No details on the total number of badgers shot have yet been released despite requests from the BBC for details.