Rail partnerships in Somerset face cut in council funding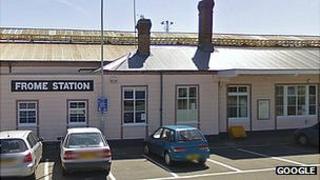 Funding for two community partnerships which help improve the look of many Somerset railway stations could be cut.
Somerset County Council is considering stopping the annual £10,000 it pays to Heart of Wessex (HoW) and Severnside Community Rail Partnerships (CRPs).
An HoW spokesman warned that withdrawing its funding could result in the end of the partnership.
The council said it would consider the "views and concerns" of the rail partnerships before making a decision.
Both CRPs use volunteers to help paint and clean stations on lines between Bristol and Taunton and Bristol and Weymouth.
'Reduced vandalism'
Keith Walton, from the Severnside CRP, said: "We want to continue supporting volunteers but if we don't get a contribution from Somerset [County Council], it makes life difficult."
The council acknowledged the CRPs had "helped increase rail patronage significantly", made stations safer and reduced vandalism.
But in a statement, a council spokesman said: "We are having to prioritise the money we spend by redirecting what can be afforded towards essential services.
"We have discussed the issue with the rail partnerships and will be considering their views and concerns before making any decision."
The issue will discussed at a Scrutiny Committee meeting later.
If approved, the partnerships would have their funding removed at the end of March next year.