Somerset woman spends hours retrieving files recycled by husband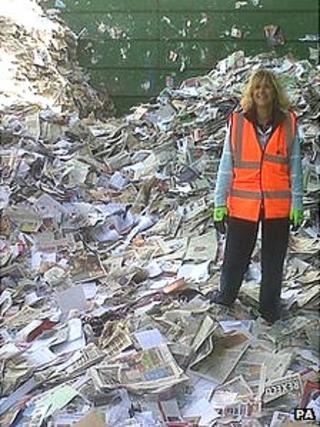 A woman spent hours searching tonnes of waste to recover files which were accidentally recycled by her husband.
Lucy Binns, 46, from Winsham, Somerset, asked husband Stewart, 62, to take out piles of unwanted paper from their office while she did the school run.
But when she got home, she realised a stack of important and confidential documents had gone missing.
She then raced to a nearby depot and managed to find them all after rummaging through a mountain of papers.
She said: "I wanted to cry, I thought we'd never get them back but I managed to find everything we had lost."
The files, which included company documents and tax papers, had been put on a chair for filing.
But Mr Binns, who does not "normally do the bins", had been asked to "finish the job" and mistakenly put them in with the recycling.
'Huge paper mountain'
When they realised the mistake, the couple frantically drove around the country lanes trying to find the recycling truck.
But it was only when they called the Somerset Waste Partnership, they realised the truck was at Walford Cross depot and was about to be emptied.
With the the lorry directed to unload in a separate area, Mrs Binns then raced to the site where paper from around the county is bulked up and despatched.
"There was a huge mountain of papers - I was gobsmacked by how much there was and it had all been mixed up in the truck.," said Mrs Binns.
"It took three hours but I managed to find everything we had lost, which I am so relieved about.
"Looking back now it is funny, especially as our name is Binns."