Phoebe Willis inquest: Nurse said she did not 'use force'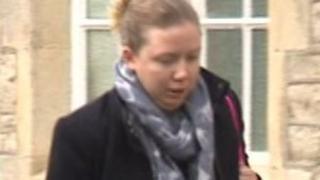 A nurse who fitted a feeding tube to a 10-year-old girl who later died has told an inquest she did not "use any force" when she inserted it.
Carrie-Ann Nash treated Phoebe Willis, who had a rare genetic condition, at Weston General Hospital in August 2012.
Phoebe went there after her parents had problems changing the tube at home. They claim Ms Nash used "too much force", leading to Phoebe's death.
She died of peritonitis on 26 August 2012 at Bristol Children's Hospital.
Ms Nash said fitting the tube was "difficult" but told the inquest she did not use force.
Phoebe, from Locking in North Somerset, had cystinosis and had to be fed through a tube.
This was done by her parents, Julian and Heather Willis, who also changed the feeding tube every three months.
When they tried to change the tube on 24 August they said they had problems as it would not actually go into her stomach.
They told the inquest the Bristol Renal Unit had then advised them to take their daughter to Weston General as it had a specialist nurse, Ms Nash, who could insert the tube.
Ms Nash told the inquest that fitting Phoebe's tube "had not been easy".
She said: "I did not need to use any force. I was the only one to insert the tube.
"I changed the tube with the intention of providing Phoebe with care."
The inquest heard that after the feeding tube had been fitted, a reading was taken to ensure the tube was actually in the stomach.
Phoebe's pH reading was said to be "six" - the inquest was told that "any reading over pH5" would be considered "a worry".
The reading could have suggested there was too much alkaline meaning the tube was possibly not actually in her stomach, the inquest was told.
Ms Nash said once she had taken this reading, she went "straight to the doctor to seek his advice".
Phoebe was sent home after treatment but when she woke up the next morning she told her mother she did not feel well.
She was taken to Bristol Children's Hospital where she died of peritonitis on 26 August.
Cystinosis is a rare genetic condition that causes damage to the kidneys, eyes and other major organs. It affects about 150 people in the UK.
It occurs when an amino acid called cystine is not carried out of the body and then accumulates in cells.
The inquest at Avon Coroner's Court continues.