Five arrested over Weston-super-Mare methamphetamine laboratory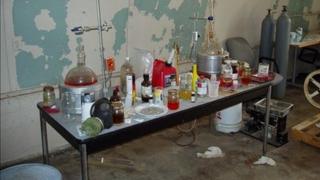 Five men have been arrested after a "very rare" drug-making laboratory was discovered in Weston-super-Mare.
Police found the methamphetamine laboratory, along with large amounts of chemicals used to produce the drug, during searches on four properties.
The men, aged 34, 37, 38, 40 and 45, were arrested on suspicion of conspiracy to supply a Class A drug.
An Avon and Somerset Constabulary spokeswoman said it was the first such laboratory found by police in the area.
Drug strategy manager Paul Bunt said it was "very rare to come across the production of methamphetamine in this country, let alone in our force area".
He said the force had "always treated this drug extremely seriously".
"Not only is it hugely addictive, the production of it is a highly dangerous process.
The spokeswoman said officers had searched the properties after being alerted by a "local intelligence network" of pharmacies and health trusts, which reports unusual purchases or activity to the police.
Methamphetamine, which can be found in both powder and crystal form, was made a Class A drug in 2007.