Badger cull extension in Somerset expires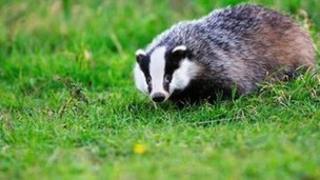 The extended licence that gave further time for a cull of badgers in west Somerset has expired.
The initial six-week cull period ended on 7 October but was extended by three weeks as too few badgers had been shot.
The Department for Environment Food and Rural Affairs (Defra) said 850 badgers were killed but the target was 2,081.
The target number was then revised to 1,020 badgers with a three-week extension added to enable a further 170 badgers to be killed.
A pilot cull in Gloucestershire was also extended with the new licence running for an extra eight weeks until 18 December.
Ministers and the National Farmers Union say badger culling is needed to control cattle TB.
Around 28,000 cattle were slaughtered in 2012 at a cost of £100m to taxpayers.
However, animal welfare groups say scientific evidence does not support the policy of shooting badgers in an attempt to control the disease.
Defra said it would not comment on whether or not the target was reached until the numbers have been reported to Parliament.