Footballer admits causing M5 death crash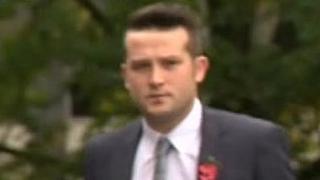 A non-league footballer has admitted to causing a crash on the M5, in which a man died and another was seriously injured.
Tom Pilling, 25, from Exeter, Devon, pleaded guilty at Taunton Crown Court to causing death by careless driving and driving without insurance.
On 9 March, the car he was driving left the motorway near Taunton and crashed, killing his friend Daniel Gunn, 24.
A second passenger, Thomas Moyes, suffered life-changing injuries.
Pilling has played for a number of Devon football clubs.
In a statement, which was read to the court, Pilling said he accepted he was guilty because he had no recollection of how the accident happened.
He said: "In the absence of any other explanation I may have fallen asleep at the wheel and that caused the car to leave the carriageway."
The case was adjourned and Pilling will be sentenced on 6 December.